Mercedes-Benz has just unveiled the new C 63 S, a sportier version of its sedan that moves to plug-in hybrid mechanics with more power than the V8 bi-turbo used to this day and known to us.
Mercedes-AMG C 63 S: Sporty design
Based on the new generation C-Class, the new German rocket takes everything to the extreme, including the overall width of the body to accommodate larger axles and wheels; Among the aesthetic novelties of the C 63 SE Performance we see:
AMG sign replaces the star on the bonnet

Air intakes in the hood

AMG radiator grille with horizontal surrounds and active opening

Air intakes on the front fenders

Choice of 19-inch or 20-inch wheels

Four rectangular exhaust outlets

rear diffuser

Spoiler in the profile of the trunk.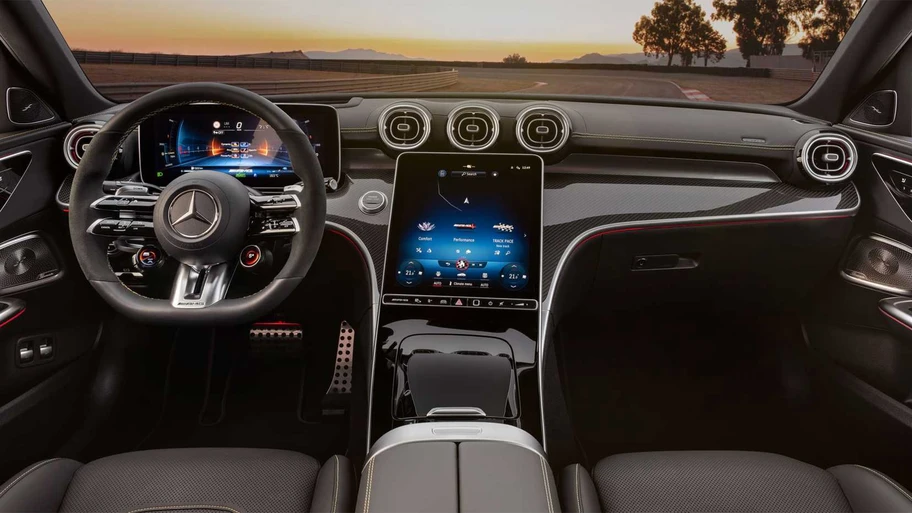 Inside, the same component distribution of the 'regular' C-Class is retained, but with a sportier vibe. starting with the seats and all graphics of the MBUX multimedia equipment customized by AMG.
AMG C 63 SE Performance: The most powerful four-cylinder in the world
Mercedes-AMG literally goes all out with the C 63 S by using a technology it calls E Performance. The car loses half the cylinders but gains power.
Mechanics C 63 SE performance:
2.0 liter 4 cylinder

longitudinal front

Electric turbo system that eliminates lag

476 hp and 402 Nm of torque.

Rear electric motor: 204 hp and 236 Lb-ft

Two gears.

Total Power: 680 hp and 752 lb-ft

Battery: 6.1 kWh (400 volts)
Traction is all-wheel drive with permanent distribution, and the rear-engine gearbox activates second gear from 140 km/h to allow its power to be used throughout the vehicle's speed range, resulting in:
0 to 100: 3.4 seconds

Top speed: limited to 250 km/h or 280 km/h optionally configurable.
Mercedes-AMG C 63 SE Performance: chassis and dynamics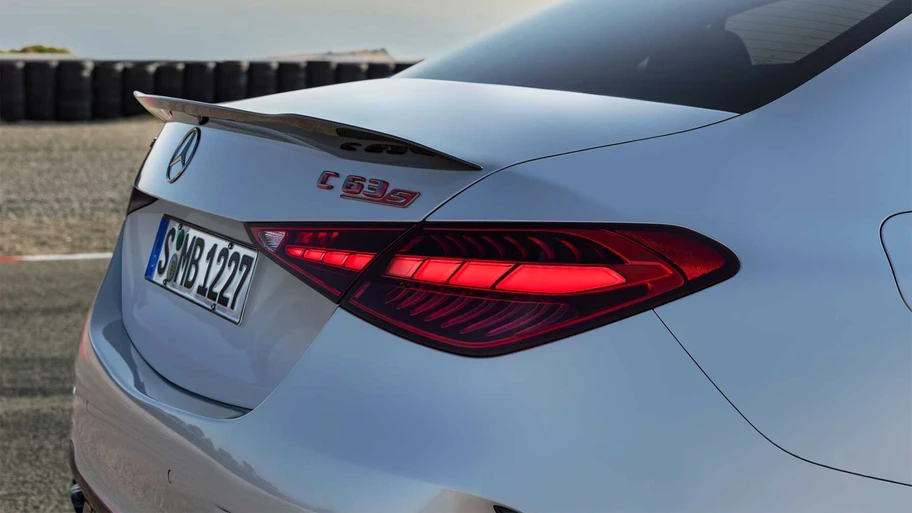 Mercedes and AMG paid a lot of attention to weight distribution. In addition to installing a lighter motor at the front and the electric motor at the rear, The battery is located in the lower part near the rear train.
Electronically controlled suspensions

Rear axle with steering system

Composite brakes

8 driving modes, including one that saves battery.
Speaking of electricity storage: It is relatively small and only offers a range of 13 kilometers. suggesting that the focus is more on performance than ecology. Nevertheless, Mercedes-Benz states a mixed consumption of 14.5 km/l.
What do you think, the virtues of the hybrid Mercedes AMG C 63 S make you forget about the sound of the V8? Let us know what you think in the comments.